IGNITE - FIRE UP YOUR PARENTING SPIRIT
Simplify your parenting to let go of overwhelm and find joy in your home
The IGNITE course is a unique and insightful guide that brings together wisdom from around the world, aiming to help build happy and thriving families. Drawing from my own extensive research and experiences of 25 years of being a performing arts teacher and living on four continents, in five countries, and across five US states, I've discovered that there is more than one way to be a good parent.
In this course, we dive deep into the cultural practices and parenting approaches across different regions, sharing insights that will undoubtedly transform your perspective on parenting. By exploring how other parents around the world approach raising children, you'll unlock powerful tools and discover how simple and fulfilling parenting can truly be.
My goal with IGNITE is to take your parenting from good to great, allowing you to effortlessly implement strategies that require no significant effort or planning. Together, we'll let go of overwhelm and rediscover the joy within your home. I believe that by creating a space filled with connection, communication, and understanding, your children will eagerly look forward to coming home each day.
Completing IGNITE will equip you with invaluable insights and practical tips to enrich your parenting journey, offering a fresh perspective on building strong relationships with your children. This course is not just another parenting guide but an invitation to embark on an exciting exploration of global parenting wisdom.
I truly believe that partaking in the IGNITE course will open new doors and provide you with a renewed sense of confidence and joy as a parent. I encourage you to give it a go and discover the transformative power of this heartfelt time to invest in your family.
Joanne Holbrook has spent the last 16 years researching how parents around the world raise their children all while raising her own family on four different continents, five countries, and five U.S. States.
Joanne has consolidated these experiences into her four time award winning book "Your Passport to Parenting," online courses, speaking events, and workshops to help parents discover successful parenting techniques used around the world.
As a military spouse, a middle and high school performing arts teacher, and experienced parenting coach, Joanne assists parents in discovering hundreds of successful techniques and guides them to design their own unique parenting plan to bring happiness and joy into their home.
Her courses have been attended, accessed and loved by hundreds of parents all over the world.




"Joanne Holbrook has provided what every other parenting book has long overlooked: that many ways exist to be a good parent, and just because you do things differently, doesn't mean you are doing them wrong. In Your Passport to Parenting, she provides tips from around the world about how to raise happy, well-behaved children without having to try to keep up with other parents. This is a breath of fresh air among parenting books."
— Tyler R. Tichelaar, PhD and Award-Winning Author of When Teddy Came to Town, Michigan, USA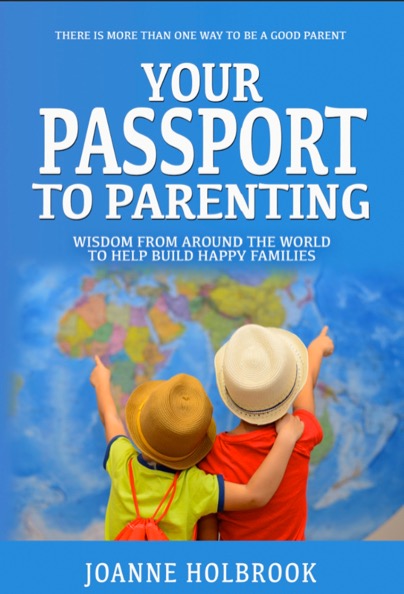 Check your inbox to confirm your subscription